If there were something out there that could soothe you and alleviate your anxiety – and it didn't require a drink mixer or a prescription – wouldn't you try it? Such, experts say, are the healing powers of the color green, which can be yours with a simple call to the painter.
If green soothes, why not try painting it on the walls of the most restorative room in your house? The master bedroom.
Green walls can, in theory, bring the brightness and warmth of nature right into your home. Even bright greens, as shown below, can evoke the feeling one gets in a forest or meadow, and, assuming those are pleasant feelings for you, bring a certain sense of harmony into the room.
Feng Shui guidelines concur. Green is good. It's just up to you to choose your shade. For some, the boldest of greens will evoke all the good feelings we cite here, and for others they will be immediately transported to their high school cafeteria. Choose wisely, green-lover. Remember, the goal is inner peace, not Mystery Meat flashback.
[HGTV]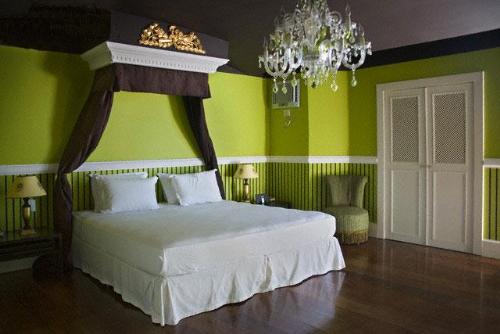 [ghareexpert.com]
[housetohome.uk]
[sorteobuop.com]
---
Looking for the perfect green? Bring in a qualified painting contractor for a free consultation to help you with your color picks. Our local, trusted partners are reliable, affordable and ready to help.


---
---
[main image: HGTV]